é, Learn more about Canada, from side to side to side to side across and down)
Rahman Mohamed
The answers are here.  If you missed the crossword check it out.  Learn more about Canada on Nova's Rays
Across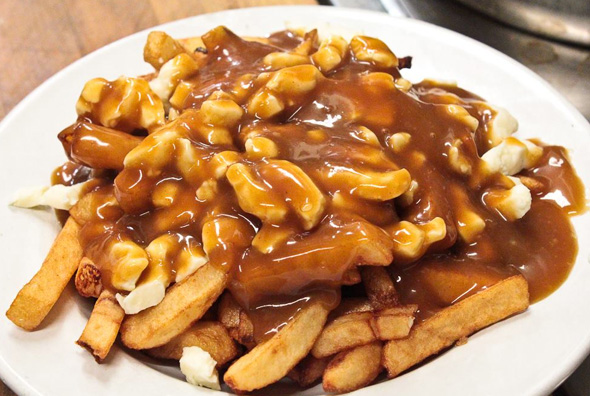 1. Poutine was first served in Québec, mid 1850s. Its origin is debated. Some say it was a dish someone asked for. Others say a cook just put together leftovers. Either way, a plate of fries with gravy and cheese is poutine, a Canadian dish going interational! It's a viral dish being customised to fit in! (Cheese is made by bacteria not virus; it won't harm your computer unless you drop it on the keyboard).
5. "Eh" is a trademark of the Canadian language. If you use it outside of Canada you'll be told "A Canadian, eh?" There are Canadians who live outside of Canada that still use it.  "A" is "Eh" (like é); au Québec, en français, "Ah" est "A".
7. Personnes de Canada ont très poli. Si il ne peut pas s'aider il peut se dire où quelqu'une peut t'aider. Si vous êtes canadien vous le rirez et aussi direz « Merci » après quelqu'une l'a traduit. Vous probablement aussi avez dit « Si vous-plait » avant la personne vous l'a traduit.  Si la personne est canadien il rira; les canadiens ont poli et aiment rir.  Ils s'amusent.
8. He wasn't just the Prime Minister when Canada implemented the CPP, Canada's new flag, and Medicare initiated by Tommy Douglas, Prime Minister Lester Pearson was awarded the Nobel Peace Prize for playing a diplomatic role during the Suez Canal Crisis.
9. Hockey is translated as « hockey » and « hockey sur glace » in French; lacrosse is the same in anglais and French. William George Beers (a Canadian dentist, last name Beers) is credited with writing the first rule book and being the father of modern lacrosse. In 1867 it was first played across sea in Britain. Although it was well-known and considered Canada's official sport, it wasn't until 1994 that lacrosse was made Canada's national summer sport by Parliament; unsurprisingly hockey is Canada's official winter sport.
10. Avant la terre est devenue un pays il y a personnes que parlent Anglais et Français y'a résidé. Donc quand les colonies ont créé le pays du nom « Canada » ils ont décidé les langues officielles seraient anglais et français. Aujourd'hui personnes que ne vivent seulement au Québec peuvent parler français (Before the land became a country people who speak English and Français lived there. So when the colonies created a country with the name Canada they decided the official languages would be English and Français. Today people who don't live in Québec can speak Français)
12. Vous êtes un ami de quelqu'une. Tout le monde a un ami et probablement un plus meilleur ami. Au Canada si personnes n'est pas s'ami il peut parler de canadien. Le canadien s'aidera.
13. Municipal police uphold municipal/regional by-laws. Provincial police uphold provincial laws.
The RCMP upholds Canadian national laws. First named the "Northwest Mounted Police" in 1873, they were renamed the "Royal Canadian Mounted Police" on February 1, 1920. Whether it's the image of an NWMP, the RCMP officer in a red with a hunting rifle, or the red-suit officer on a horse, the RCMP is someone who protects all Canadians, a Canadian icon. Note: the Royal Canadian Navy, Canadian Army, and Royal Canadian Air Force fall under the Canadian Armed Forces not the RCMP.
Down
2. Hockey isn't just a game in the North; it can be a dictionary. A "face-off" is the starting play of the skating game and a non-physical battle between two people (they're going at each other but are being peaceful Canadians). If you're boxed you either fouled and the referee gave you a penalty or you made mistakes and now they've backfired on you. OT means you're doing something past the time you were supposed to stop, either the game has gone into over-time because there's still a tie or you're putting extra effort to get your work done so you can enjoy the game when you go home (lacrosse or hockey).
3. Canada est une terre des personnes immigrés. Seulement les personnes indigènes sont personnes que ne sont pas arrivés de Canada d'autre pays. Les français et anglais, les personnes premiers de Canada, y sont arrivés d'autre pays.
4. The $1 coin has a picture of a single loon (not loons) so it's been nicknamed the "Loonie" (what Canadians are), after all they named the $2 coin toonie and eliminated the penny. They honoured another animal by giving it the country's name – the Canada Goose.  A Canadian apparel company was so loonie it named itself "Canada Goose".  It specialises in winter-wear and does sell toques.
5. Ellesmere Island is part of Nunavut. Nunavut was created in 1999; it was part of the Northwest Territories. The Northwest Territories were created when Canada purchased the land from HBC.  When purchased Canada truly became "North", a land from coast-to-coast-to-coast.
6. Prime Minister Joe Clark was 39-years-old when he became Prime Minister (1979-1980). He was elected after Prime Minister Pierre Elliott Trudeau (1968-1979; 1980-1984) but before Prime Minister Justin Trudeau (2015-Present). The second Prime Minister Trudeau was a bit older (43) when he was elected as Prime Minister in 2015.
11. Sap is in all trees. It is a liquid that helps the tree grow. It's used to create syrup. Whether or not the sap is from a maple tree Canadians call all syrup "Maple syrup".