Which touque?
Rahman Mohamed
If you live in the North and don't know the word you can't call yourself a Canadian.  It's a winter icon and a source for humour.  If you don't have one you're either living in an igloo, a snowbird, or just like having your ears frozen.  The touque.Canadians know the word.  CBC conducted an online poll about the correct spelling.  "Touque" won.  Computer dictionaries state it's "toque", a close second.  Canadians know where their toque is all year round (even in the summer).  Most will know that there are more than one species of touque.
You might be able to get multiple toques of the same brand from Wal-Mart or Giant Tiger, but there's more than just the pull down one-size-fits-all knit-cap with or without the pompom on top, the only toque most urbanites know.  They'll see diversity in the beautiful toque landscape but often bypass a beauty to behold.
Not only does this winter wear come in a range of colours, sizes and pattern, it is one of the few winter wear that continuously adds beauty to the winter landscape. 
Whether you're travelling by transit, just strolling around the block or driving around looking for that place that will do a late winter tire change, you'll always see the toque.  In addition to the diversity underneath, the different hairstyles, skin colours, thoughts and accents there's the diversity of the toque.
It's true that a lot of people wear the simple black toque.  It's the easiest to find and like black bottoms they'll look good with any style parka.  On Amazon toques can range from $0.01 to $148.99.  Growing Canadian culture is evolving toque's design.  Most still are still wool or fleece but what they bring to your head is growing radical, not just in colour.
Most are just the plain ones, a piece of cloth designed to go on your head, cover your ears and stay there whether you're skiing, skating, building a snowman, or just shovelling so you can enjoy the beauty of winter after a short drive to Tim Horton's.  The traditional pompom, a set of fabrics on the top to cover the stitches that hold everything together, is becoming more popular.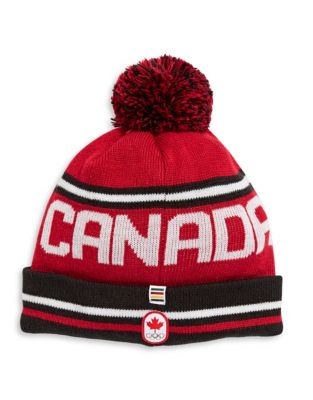 There's also the growing range of pattern design; in addition to the traditional one colour toque they're also becoming commercialized.  Today you can find a toque with the Canadian flag, a stylish Canadian – the stripes, maple leaf and "CANADA" or "CANADA 150". 
Recently released is the Olympic toque, an official part of Canada's winter Olympic uniform.  Others come with a beaver, a loon, Canada goose, moose, or the famous/infamous groundhog (the rodent that decides whether or not to see his shadow so it can predict how soon spring will come). 
Some offer a combination of Canadian nature including the maple – syrup, tree or leaf.  Popular is the winter beauty touque.  There are also the knock offs, the ones that show elm instead of maple or the elk instead of the moose.
The fastest growing toque styles are the commercial.  Although their form hasn't changed what they feature is changing.  They display the colours, name and a logo.  Most often they belong to a sports team. 
Team Canada has always been in the toque game; they're diversifying.  There's are the
Vancouver Canucks, Calgary Flames, Edmonton Oilers, Winnipeg Jets,
Ottawa Senators and Montreal Canadiens
. 
There's also a Toronto Maple Leaf toque, made for the only Canadian hockey team that sees winter in the arena but has fans that wear its toque outdoors.  If you're willing to wear the Maple Leafs (hockey) toque outside Ontario or even outside GTA you're either a brave soul or just new to Canada. 
The Toronto Raptors,
Blue Jays, Argonauts and
Toronto FC have their own toques too.  With the exception of TFC, you can wear these anywhere in the country; many Canadians do support Toronto.  TFC gear is banned anywhere outside Ontario; on and off the field Montreal Impact and Vancouver Whitecaps have strong fans (supporters to make their stadiums cold instead of machines so toques are worn).
Americans have caught onto the commercial toque bandwagon.  It's not uncommon to see it in the northern teams that might see a frost and a light dusting ranging from 1 to 10 centimetre (0.3 to 4 inches).  Forget about
windchill; if an American knows the word they've
either been in a Canadian winter for over a week or are just the rare smart American (most likely one who studied in Canada).  Southerners are either watching the
Florida Panthers in the North or just get cold on home ice; they'll either take it off as soon as they
leave the arena or just wash it each night if they're wearing it in the street to show support for their team.
The continuously evolving toque is now comes in the style of a baseball cap, a cloth that covers a baseball cap.  Whether or not it comes with a team's brand it's a unique design to keep the sun out of your eyes while you go cross country skiing.  You might get it to support a team.  Most will get it because of spring dreams, the time the real baseball cap can be worn without fear of losing ears.
The traditional trapper toque, a toque with ear flaps and a dangling strap that can be tied under the chin to hold it in place is growing in popularity.  They reduce the need for earmuff or ear bandana.  Most Canadians do survive without either, just a toque that covers half the ear so their earbuds don't fall off while they're listening to Justin Bieber or Celine Dion.
A full-mask toque, a piece of cloth that covers everything but the eyes, with or without open lips, is popular in the far North who wear it at -40°C with a wind chill of -90°C and the weak Southerners that feel the chill at -20°C, wind chill -21°C.  Instead of a full face cloth some come with a logger's beard or a Santa beard.  On the other side is the tight fit toque, an elastic toque that fits fully to the wearer's head. 
It's common among skiers and baldies who don't want scratches from the wool. 
(Canadians volunteering in Santa's workshop have leaked it but don't tell anyone else; the man in the red suit burned his hair in an American fireplace the homeowners didn't put out.  This year he'll be wearing the full face beard toque with an elastic toque underneath.)  There's also the hair toque; the traditional cap but instead of a little bob it has a hole at the top for the ponytail.  The toque is often advertised by men; the hair toque is on women.
Coming to Canada for a winter getaway?  Either you couldn't find a better deal, want to see the Great White North in its true beauty, or you want to try out your own native toque.  If you forget yours or just don't have one, have no fear; you'll be able to get a toque anywhere in Canada.  Any polite Canadian, aka anyone with a Canadian passport, will lend you their own; most have more than two with them or have just learned to cope with winter.  If they don't give you one they'll point you to the closest store that offers high class toques.  It'll give you a chance to see a multicultural Canada: diversity of Canadians and the diversity of the toque.  Who knows, you might even see your nation in a toque; another celebration of Canadian diversity.  The toque advertises Canadian pastimes too.