Happy birthday Canada!  Bon fête du Canada!
It might be big but Canada's still young.  Canada turns 150 next year while USA grows to 240 in 3 days!  But they're still close friends and and don't bug each anywhere except on the ice, as President Obama said in his address to a joint session of Parliament on June 29; their border including the 49th parallel is the longest peaceful border in the world!
Not only that the Great White North is recognized around the world!  On Google.ca today its Doodle shows the Canadian North, glowing lights showing the Great White North over a great plain with coniferous trees, standing tall and free.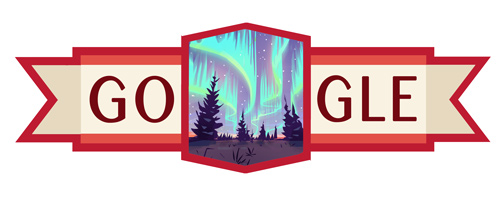 As it grows Canada might be going through an identity crisis (the Anthem), but it's taking it slow; the old anthem was sung on Parliament Hill today.  Canada has been accepting refugees from war-stricken Syria and celebrating their diversity.
As the Olympics draw closer Canada's support for athletes and Team Canada grows.  Not only that, the Toronto Blue Jays are wearing red as they play the Cleveland Cavaliers at home in the Roger's Centre.
As the party continues on Parliament hill being broadcast across the nation the Snowbirds have flown.  Bands from across the country of all genders and races add sound to the scene (tous les langues, anglais et français, aussi).
Canada's had its share of troubles, most notably the Senate scandals.  But you can't expect anything more from a young nation just learning to walk.  In fact, officially Canada can be said to be just over 30 (younger than Prime Minister Justin Trudeau).  Trudeau the 1st (Right Honourable Pierre Elliot Trudeau) led the Patriation of Canada's Constitution.  Until 1982, even though it was considered an nation, Canada was officially a British colony (The Brits could come in and legally change anything they didn't like about the country but they were too lazy to do anything).  Patriation brought the inclusion of the Canadian Charter of Rights and Freedoms to the constitution; today the CCRF is an iconic symbol of Canada respected by Canadians from coast to coast to coast and admired (sometimes envied) by non-Canadians down South and overseas.
Prime Minister Justin Trudeau, son of the Prime Minister who patriated the Constitution will have the chance to lead Canada into its sesquicentennial, its 150th birthday, next year.  From a nation composed of 4 provinces – Ontario, Québec, New Brunswick and Nova Scotia – Canada has grown to the second largest nation in the world, it became what it is today when Newfoundland and Labrador decided to become a Canadian province 1949 instead of being a British colony.  It's also a nation many Google moving to (most recently Americans and British with the chance of "President Donald Trump" and the recent "Brexit").
As Canada enters a new year, preparing for the grand 150, everyone is watching the scene, what will next year's big party hold?